A&B Driving School Driver Practicum Curriculum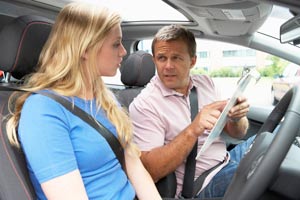 Driving hours can be scheduled 7 days a week. We will pick you up and drop you off at your home or school. Norwood, Walpole, Westwood, Dedham, Medfield, and Canton.

Driving lessons outside our service area listed above, will incur additional cost. Please contact us prior to scheduling your road lessons.

Students will learn to:
To become certified a student has two years to complete the course
Familiarize themselves with vehicle controls and how to adjust mirrors, seat and steering wheel accordingly
Apply the concept of the Smith System (Aim High, Keep your Eyes Moving, Get The Big Picture, Leave Yourself an "Out", Make sure Others See You)
Recognize and obey traffic signs, signals, and road markings
Use directional effectively
Back up in a straight line for a distance of over 50 feet
Share the road with pedestrians and bicycles
Make right and left hand turns
Make U turns
Three point turns
Change lanes and when it is safe to do so
How to safely pass a vehicle
Merge into traffic
Parallel park
Park the vehicle in a parking lot and on the side of the road
Drive on hills
Apply common sense and good decision making when driving
How to react to emergency vehicles
How to safely pull off the road for an emergency
Learn braking techniques used for vehicles equipped with and without ABS brakes
Navigate roundabouts and rotaries
Drive in all weather conditions, and the varying speed to accommodate all road conditions
Navigate safely through road construction and detours
Behind the wheel instruction will be taught through verbal instruction, observation and demonstration. Students will be exposed to all types of driving conditions before completing their driver education course. Driving in urban, rural and highway environments can all present different problems and it is crucial to expose the students to all situations possible. Instructors will guide students to make proper mirror,seat,and steering wheel adjustments to provide maximum safety, visibility and comfort while driving. All lessons will also apply the concept of the (Smith System). This concept will train students to always be aware of their surroundings and realize the dangers of distractions while driving. Students will learn and practice all skills listed above. The order in which they will be taught will be based on the students progression and skill level.